Trick or treat? Do you remember celebrating Halloween as kids, which mask was your go to combination for parties or even going to houses looking for treats? Was it a witch, ghost, Dracula mask or something completely different? We can say that our favourite memory was slicing pumpkins in different shapes that made scary faces, lighting a candle and decorating our houses.
If we are decorating a house, it could not go without Halloween biscuits, which are the main topic of this article. We would like to introduce you to different versions of biscuits you could bake to make your Halloween party on point, tell you something more about celebrating Halloween throughout the world and get to know more about history of this scary day – so stay with us!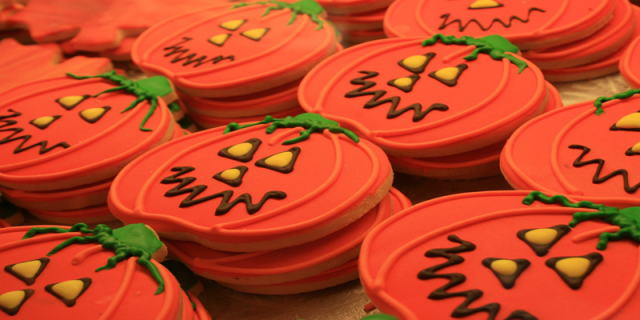 Nothing without biscuits! 
On Halloween, to keep ghosts away from their houses, people would place bowls of food outside their homes to appease the ghosts and prevent them from attempting to enter.
Cosy autumn spices
As with the season it is in, Halloween cookies draw inspiration from autumnal offerings where stronger spices prevail upon late summer's freshness.
This is the comfort food which takes you in with its smell and cookies are leading its way into the Christmas time. When we mention Halloween, the first food, that is also used as a flavour, that pops in our minds is pumpkin! All kind of pumpkin treats and drinks make their appearance in autumn. Not only one of the most recognizable trademarks of the holiday with its many hollowed versions but also a popular spice.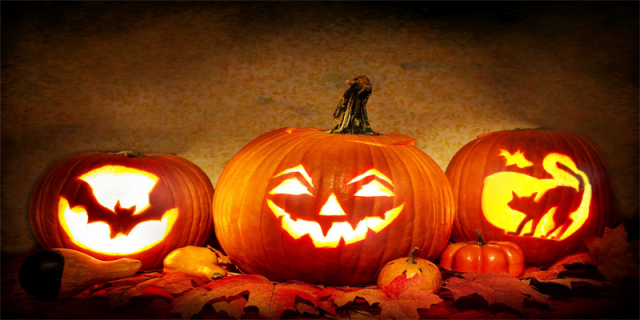 Among the most common autumn spices leading up to the Halloween, cinnamon, ginger and cloves seem to be firmly associated with the season, showing up in many of the recipes we associate with this time of year. The flavour of cinnamon is due to an aromatic essential oil; prepared by roughly pounding the bark, macerating it in sea water, and then quickly distilling the whole. 
Ginger produces a hot, fragrant kitchen spice. Powdered dry ginger root is typically used as a flavouring for recipes such as gingerbread, cookies, crackers and cakes, ginger ale, and ginger beer. Cloves are the aromatic flower buds of a tree and are commonly used as a spice – it pairs wonderfully with vanilla.
Chocolate Chip Cookies
One type you could never go wrong with! Chocolate chip cookies were accidentally made and suddenly got worldwide fame and according to some researches, there is almost no person who didn't ever try chocolate chip cookies. You can make them in many versions but one of the most special is, for sure, Halloween designed one.
As we have already mentioned, pumpkin is the most usual go to spice for Halloween biscuits. Moreover, pumpkins have so many health benefits and this holiday is the perfect time to include it in your diet. If you like pumpkin and chocolate, you'll love cake-like pumpkin chocolate chip cookies. Using pumpkin puree also allows you to use less fat than your typical cookie recipe.
Use your imagination and make chocolate chips into spiders!
Preheat oven to 180 C / Gas 4.
Combine flour, bicarbonate of soda, salt and baking powder in a large bowl; stir with a fork to mix ingredients well.
Combine butter, caster sugar and brown sugar in a large bowl; beat with an electric mixer until smooth and creamy. Add eggs and vanilla extract and beat until smooth and fluffy. Add in flour mixture with a spatula, a little at a time until well incorporated. Fold in 250g chocolate chips until well combined.
Spoon mounds of the cookie dough onto ungreased baking trays. Push about 3 to 4 chocolate chips onto each cookie, tip-side down, to make the spider bodies.
Bake in the preheated oven until edges are golden, 10 to 15 minutes. Cool on the baking tray for 1 minute before removing to a cooling rack.
Melt remaining chocolate chips in a microwave-safe glass or ceramic bowl in 15-second intervals, stirring often, until melted. Transfer melted chocolate into a piping bag with a small tip and draw little legs on each side of the spider bodies to create spider legs.
Recipe from: http://allrecipes.co.uk/
How will you celebrate this year?
Since we are all in a different phase due to pandemic, we will maybe not be able to have a party like we used to years before but you can always have your home party with your loved ones. Decorate your house, bake biscuits and celebrate Halloween.  
Article from : http://biscuitpeople.com